Yoetzet Halachah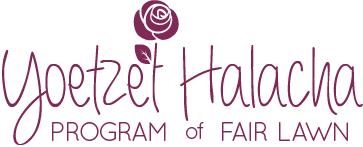 Shira Donath works as a Yoetzet Halacha under the auspices of Congregation Darchei Noam and welcomes questions from the greater Fair Lawn community.
She can be reached for any questions at 201-468-0027 or yoetzetshira@gmail.com.
The goals of this important post for our membership and the broader Fair Lawn community are:​
To encourage women to feel comfortable asking all of their questions in Hilchot Niddah in a way that also enables them to share all of the relevant details.
To provide education through shiurim, lectures, and one on one phone calls so that women understand Hilchot Niddah and the medical background to their experiences, making them better equipped to ask good questions.​
To engender positive feelings about the laws of Taharat Hamishpacha and how the halachic system works so that couples can observe these laws with greater commitment and less resentment.
There are no upcoming events at this time.
Follow us on Facebook at facebook.com/YHPFL/!
Current Sponsors:
Builders:
Add your name here!
Partners:
Add your name here!
Patrons:
Add your name here!
Become a Sponsor:
We would love to hear your feedback about the YHP of Fair Lawn. Please fill out this anonymous survey here: dno.am/yoetzet/survey
Sat, June 10 2023 21 Sivan 5783