Yoetzet Halachah
Yoetzet Halachah
Shira Donath works as a Yoetzet Halacha under the auspices of Congregation Darchei Noam and welcomes questions from the greater Fair Lawn community.
She can be reached for any questions at 201-468-0027 or yoetzetshira@gmail.com.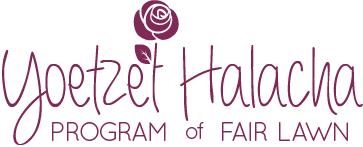 The goals of this important post for our membership and the broader Fair Lawn community are:​
To encourage women to feel comfortable asking all of their questions in Hilchot Niddah in a way that also enables them to share all of the relevant details.
To provide education through shiurim, lectures, and one on one phone calls so that women understand Hilchot Niddah and the medical background to their experiences, making them better equipped to ask good questions.​
To engender positive feelings about the laws of Taharat Hamishpacha and how the halachic system works so that couples can observe these laws with greater commitment and less resentment.
Sponsorship
Yoetzet Halacha Program Sponsorship
$1000-2500: Donor
$2500-5000: Sponsor
$5000+: Benefactor
Event Sponsorship
$36: Bronze
$72: Silver

$180: Gold
Contributions of any amount are appreciated. Please specify that it is for the Yoetzet Halacha programming.
Click here to sponsor the Yoetzet Halacha Program of Fair Lawn
UPCOMING EVENTS
View our upcoming events at darcheinoam.com/yoetzetevents
or on Facebook at facebook.com/YHPFL/
FEEDBACK
We would love to hear your feedback about the YHP of Fair Lawn. Please fill out this anonymous survey here: http://bit.ly/2GOiKNs
Tue, January 28 2020
2 Shevat 5780
Today's Calendar
Shacharit

: 6:45a
Maariv

: 8:00p
Daf Yomi

: 8:15p
---
Upcoming Programs & Events
---
This week's Torah portion is

Parshat Bo
Candle Lighting
Havdalah
Motzei Shabbat, Feb 1, 6:04p
Tu B'Shvat
View Calendar
Z'manim
Alot Hashachar
5:46a
Earliest Tallit
6:18a
Netz (Sunrise)
7:11a
Latest Shema
9:40a
Zman Tefillah
10:30a
Chatzot (Midday)
12:10p
Mincha Gedola
12:35p
Mincha Ketana
3:04p
Plag HaMincha
4:06p
Shkiah (Sunset)
5:09p
Tzeit Hakochavim
5:52p
More >>
Need Hospitality in Fair Lawn?
Visiting Fair Lawn and need a place to stay? We are happy to match you with a welcoming host and comfortable accommodations near our shul.
Kiddush & Rentals
Would you like to sponsor a kiddush or have a simcha or event at Darchei Noam?
Contact Us
10-04 Alexander Avenue
Fair Lawn, NJ 07410
201-773-4080
info@darcheinoam.com
Please do not send mail or checks to the shul building.
Send all mail and checks to:
Congregation Darchei Noam
P.O. Box 1331
Fair Lawn, NJ 07410
Create your account:
To receive the bulletin and community announcements, please create an account by clicking "My Account" in the top menu and completing your profile.
Support Darchei Noam with a "Smile"
Shop at smile.amazon.com. Same great Amazon prices and service—and Darchei Noam benefits, too.
Chesed Opportunities
Support the Darchei Noam Chesed Fund
Contact Marilyn Wilen at mrkw1@me.com
Memorial Plaques Are Still Available
Honor your loved ones. To arrange for a memorial plaque on our Memorial Board, contact Moshe Glasser at maglasser@gmail.com.
Do a Mitzvah and Bring Cheer to Hospital Patients
Volunteers are needed to do bikur cholim to patients and their families at Valley Hospital, which is not serviced by the Bergen County Bikur Cholim. To volunteer, call Sheila Weinberg at 201-797-0493.
Fair Lawn Ranked 9th Best Small City in America
Tue, January 28 2020 2 Shevat 5780